United Bowhunters Of Pennsylvania
Disabled Hunters Program
2018 Hunts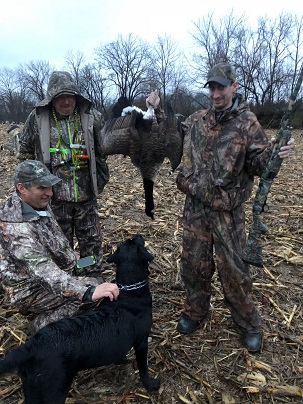 Kyle Kuzma started off our 2018 hunt season with his first goose hunting experience on a cold, wet and windy Friday/Saturday 2-day goose hunt in the Lehigh Valley.

Many Thanks to UBP member Darryl Neidlinger (standing on the left) and his "crew" for all the hard work they put into making this hunt a success. DHP Chair Joe Fialseta (kneeling with his new hunting partner Kimber), also participated in buiding the blinds to help keep our hunters dry.

Pictured below "the crew" limited out on Saturday morning.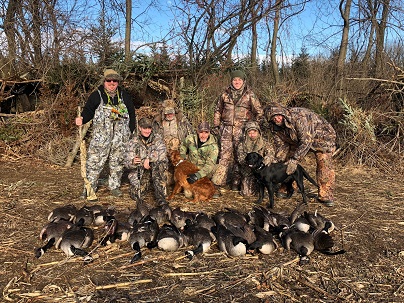 2017 Hunts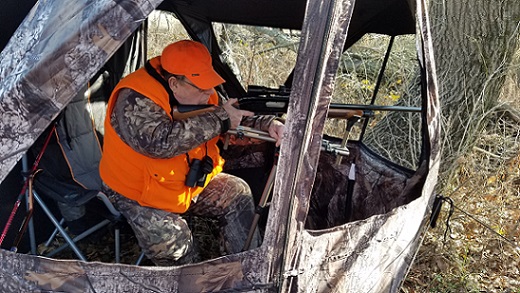 Sandy Missmer was accompanied by Dick Koch (UBP Board member) for a December shotgun whitetail hunt at Graveyard Whitetails in Western Illinois. Our 2017 Raffle winner, Darryl Neidlinger was also in camp during the same week, with DHP Committee Chair Joe Filaseta. While Sandy didn't get any shooting himself, the group was able to harvest to nice doe to put some meat in the freezer.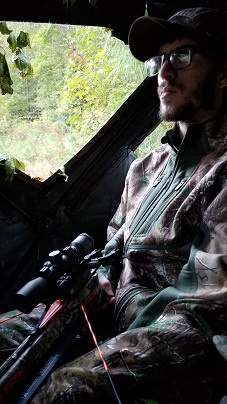 Alex Eckerd spent a few days in the deer blind down at Southampton Outfitters in VA. He had a chance at a nice 8 pointer on the first night of his hunt; while Alex didn't bring home home a deer, he still came home with some great memories of time spent with his wife Larissa and his father Walter Jr.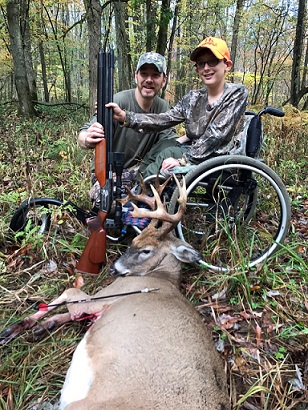 Tucker Hauser (10 years old) finished off the second half of our Youth Hunts being filmed for TV at High Point Hunting preserve with a nice doe and a 16 point buck in the closing minutes of the hunt. Way to close out the week Tucker!!!


Tucker harvested his two deer using the new Dragon Claw air bow and .50 cal air rifle. Pictured with Tucker and his buck is Kevin Hoyt (The Future of Hunting)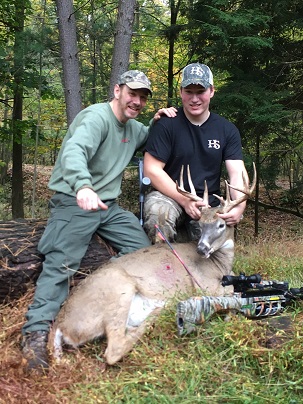 Congrats to Joseph Yarish who scored on this beautiful 10 pointer at High Point Hunting Preserve in Western PA.

Joseph put a perfect shot on his buck with the DHP's Parker Concorde crossbow.


Joseph's hunt was the first of two hunts being filmed for TV; Future of Hunting (with Kevin Hoyt - pictured with Joseph) and Pass'n it on Outdoors -both shows will air in late 2018, but you will be able to get a sneak peek at our 2018 DHP Banquet.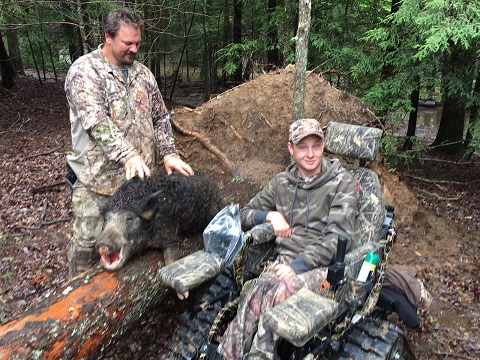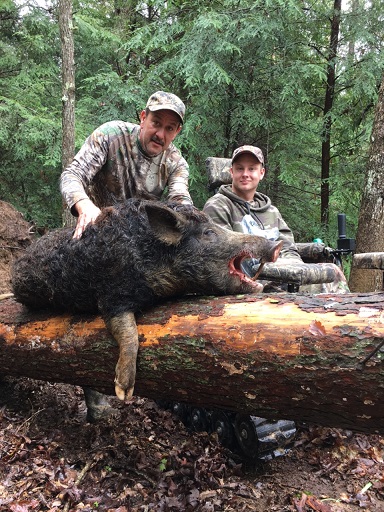 Doug Fickel Jr harvested his 275 lb
wild boar in Tennessee down at Bridgecreek Trophy Hunts making our DHP hunters a perfect 3 for 3 in the spring of 2017 down at Bridgecreek.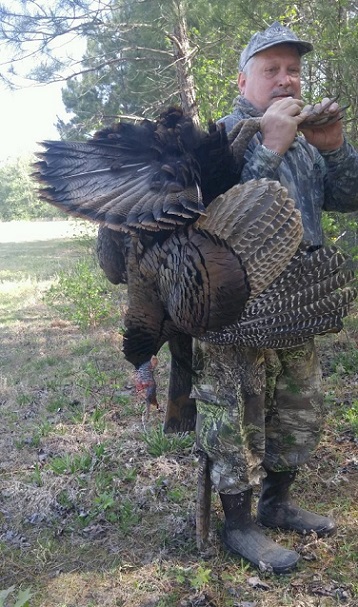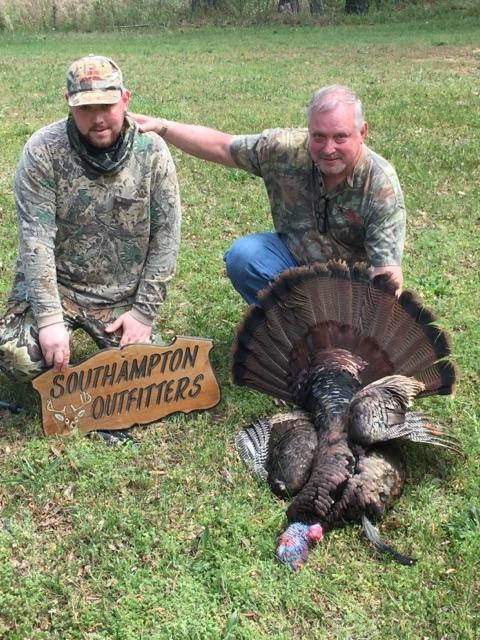 Tony Ruch, and his father Earl Ruch, teamed up to chase some gobblers down at Southampton Outfitters in VA. Earl's turkey had an 11 inch beard and 1-1/4 inch spurs. Tony came home with plenty of stories and memories of his close encounters.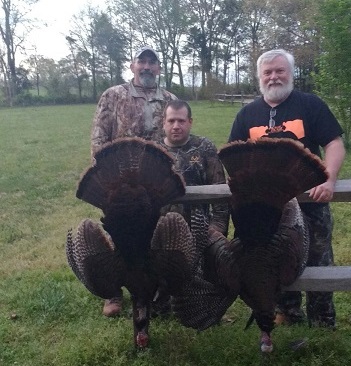 Dustin Brallier (seated) had a successful spring turkey hunt at Fair Game Outfitters in North Carolina.

Csala and Dan Beers started off the 2017 hunts with some real hogs. Csala's hog (above) weighed in at over 300 lbs, while Dan's hog (right) tipped the scales at over 400 lbs. Bridgecreek Trophy Hunts once again provided an excellent time for our hunters.
2016 Hunts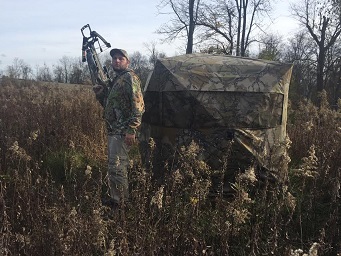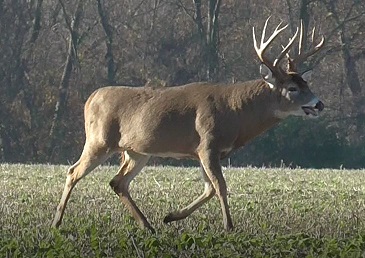 Mike Blanc got to experience some close encounters with mid-western whitetails out at Graveyard Whitetails in Western Illinois.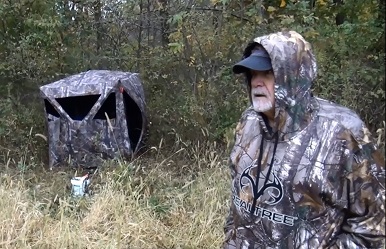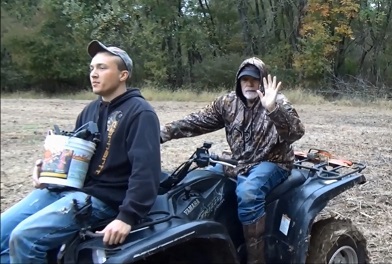 Joe Granitz had a fun week chasing some mid-western whitetails out at Graveyard Whitetails in Western Illinois.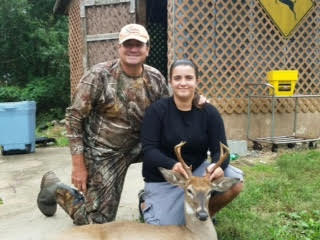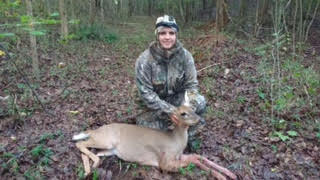 Maddy Bailey with her 6 pointer and a doe, taken at Fair Game Outfitters in North Carolina. Way to go Maddy!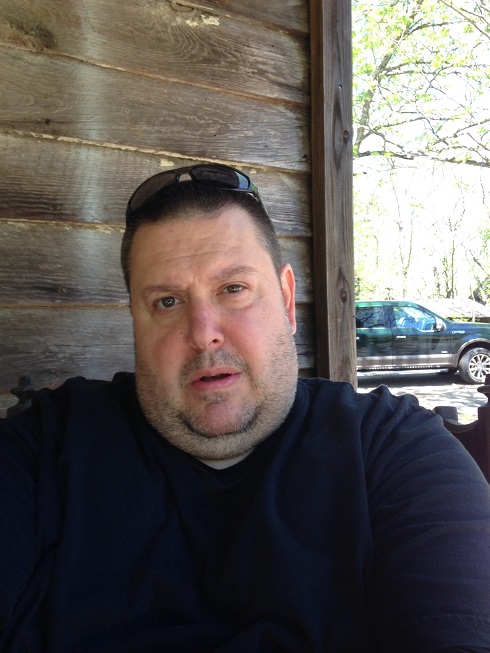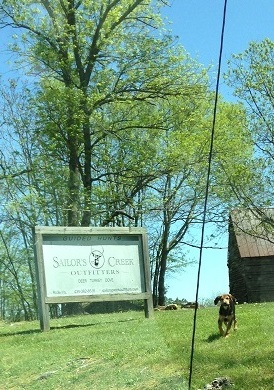 Kevin Rabenold came close to connecting at Sailor's Creek Outfitters on his Virginia spring turkey hunt. We hope that he enjoyed his experience and that he was able to bring home some lasting memories.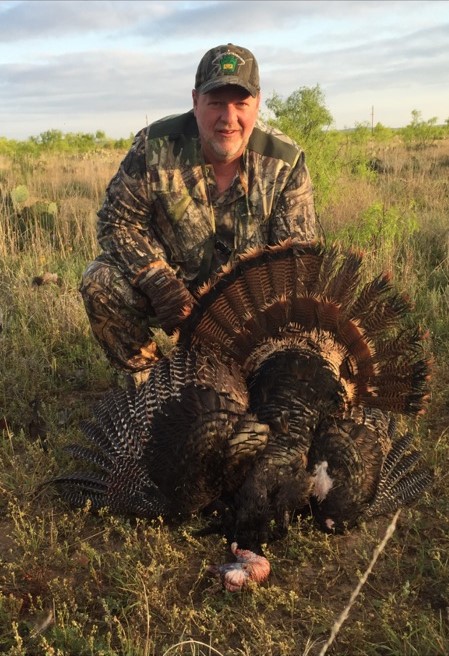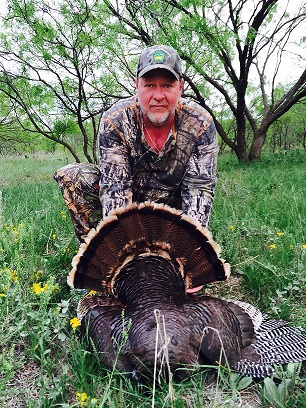 Scott Taylor with his 2 Rio Grande turkeys harvested at Desert Mountain Guide Service in Texas.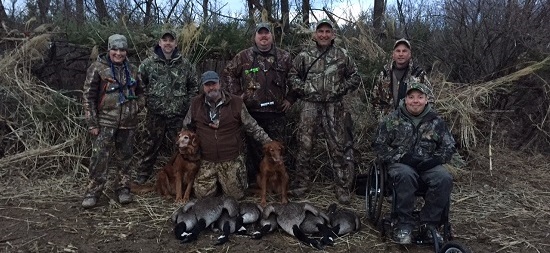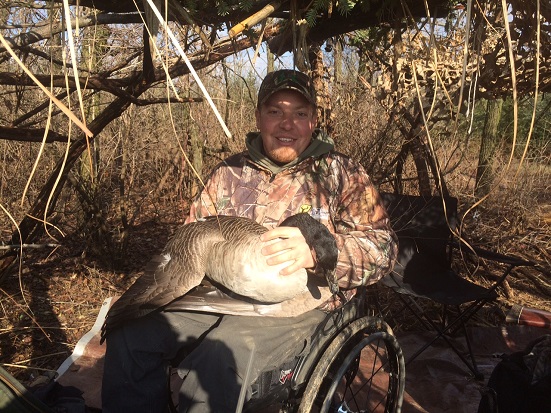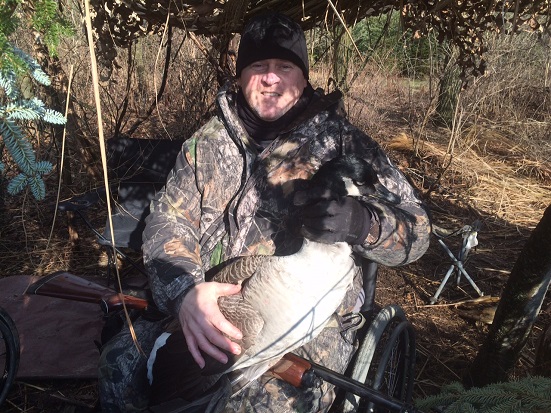 Chris Saunders (left) of Reading and Dan Webb (right) of Warminster with their Canadian Geese on the first DHP Goose Hunt in Lehigh County. Many thanks UBP members Darrel Neidlinger and Keith Ace (and the rest of the crew pictured above) for making this event possible.
2015 Hunts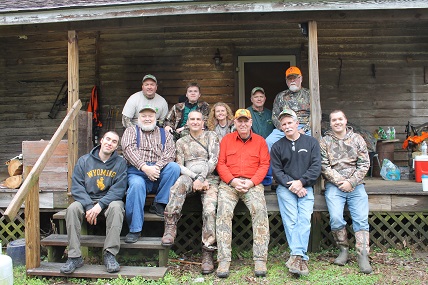 2015 DHP Doe Hunt at Sailor's Creek Outfitters in Virginia. Austin was successful (see pics below), but Dale wasn't so lucky. Still had a great time despite the weather; can't help but to have a good time with a great crew like this in camp.
Back Row(L-R): Dan Smoker, Austin Whitmoyer, Sherry Whitmoyer, Sam Nelson, Dick Koch.
Front Row (L-R): Jake Filaseta, Dale Miller, Joe Filaseta, Rick Conley, Gene King, Mike Smoker.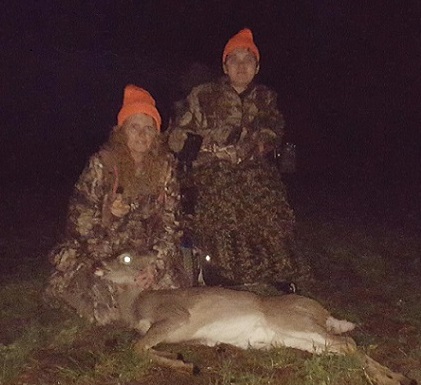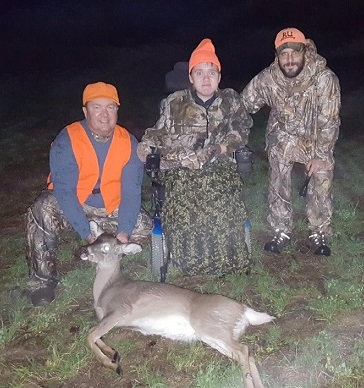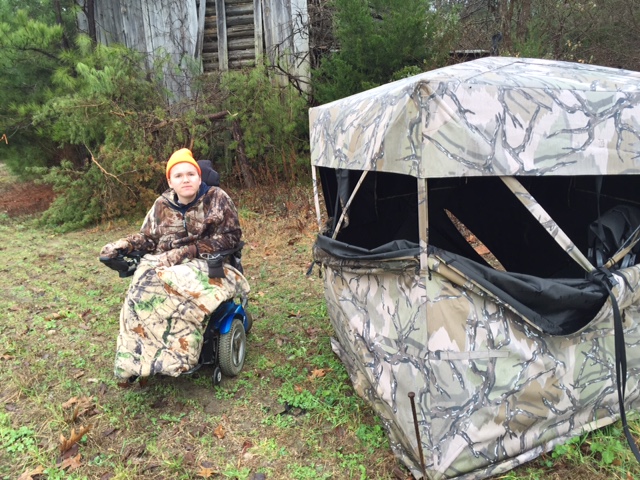 Austin Whitmoyer of Reading PA was able to return to
Sailor's Creek Outfitters
in Virginia for a "re-do" of his spring gobbler hunt which was adversely impacted due to foul weather. The weather wasn't much better this time around, but Austin stuuck it out and harvested his first whitetail. The DHP Committee would like to send out a special Thank You to Chris McClellan of Sailor's Creek, for giving Austin a second shot at fullfilling his dreams.
Brent Cox and his father Ronald, a Vietnam veteran and Purple Heart recipient, took this beautiful pair of Rio Grande gobblers at Desert Mountain Guide Service in Texas.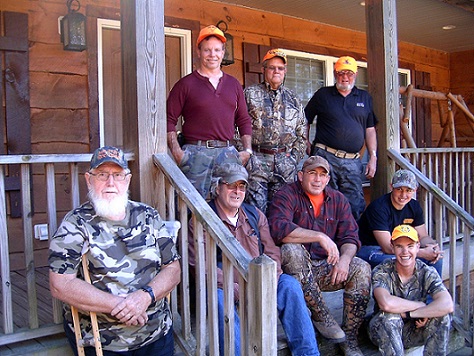 Jack Osewalt and crew at the Fair Game Outfitters lodge in North Carolina.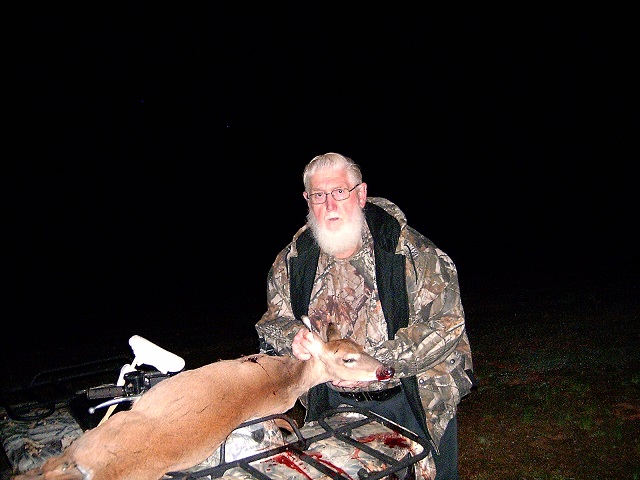 Jack Osewalt of Lebanon PA harvested this whitetail doe at Fair Game Outfitters in North Carolina.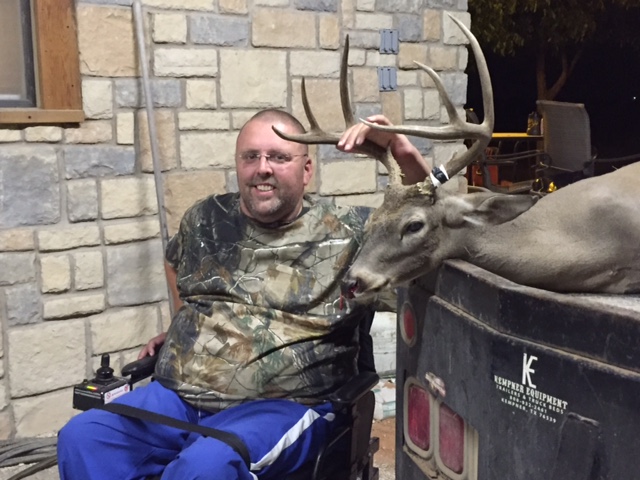 Chuck Raabe of Latrobe with a beautiful Texas whitetail taken at Desert Mountain Guide Service.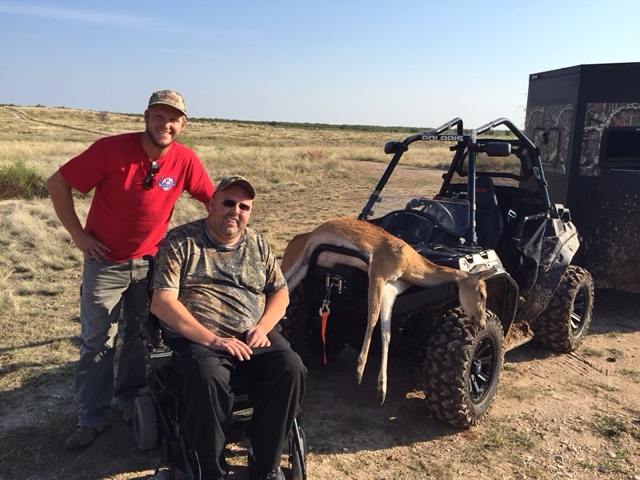 Chuck Raabe with outfitter Asa Nixon of Desert Mountain Guide Service and his Texas whitetail doe.

Austin Whitmore of Reading with outfitter Chris McClellan of Sailor's Creek Outfitters.

Austin Whitmore getting reading to go after some Virginia Long Beards down at Sailor's Creek Outfitters.
Allen Mcllure was successful harvesting a turkey at Fair Game Outfitters in North Carolina (send us your pictures Allen!)
2014 Hunts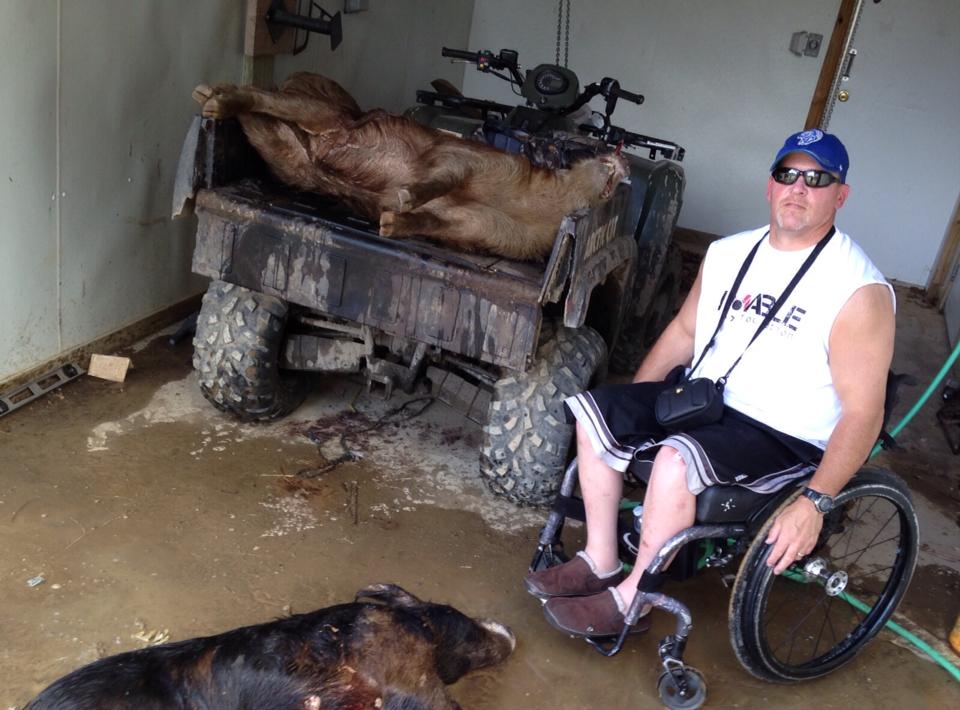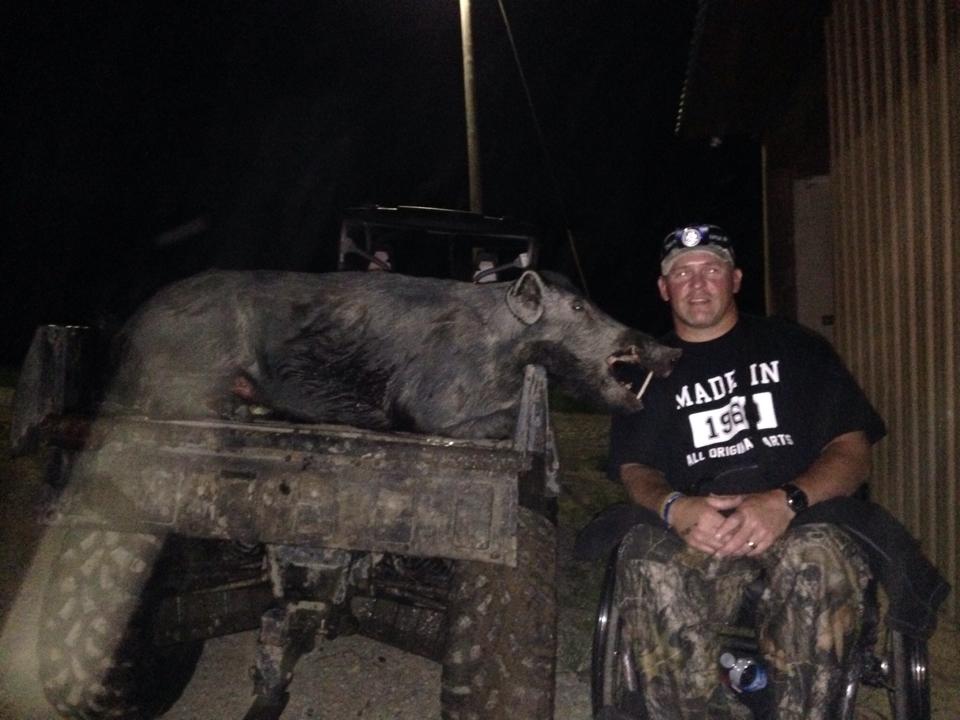 Dan Webb of Warminster did a Tennessee boar hunt with Bridge Creek Outfitters.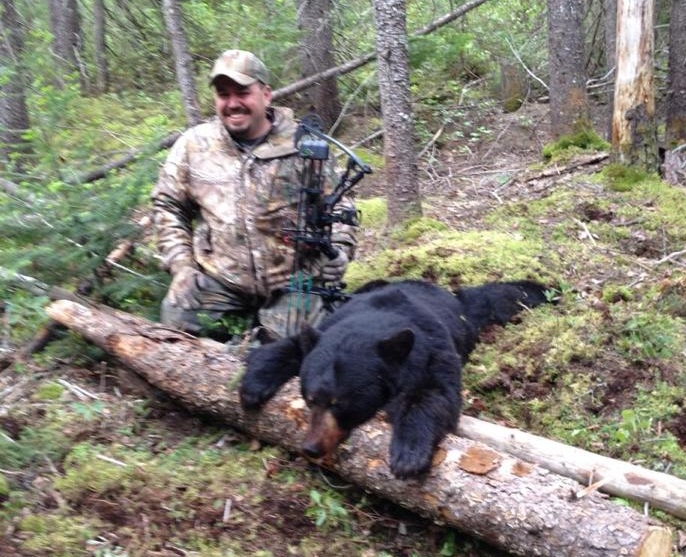 Wade Wetzel of Lenhartsville with his Quebec Spring Bear taken with his compund bow.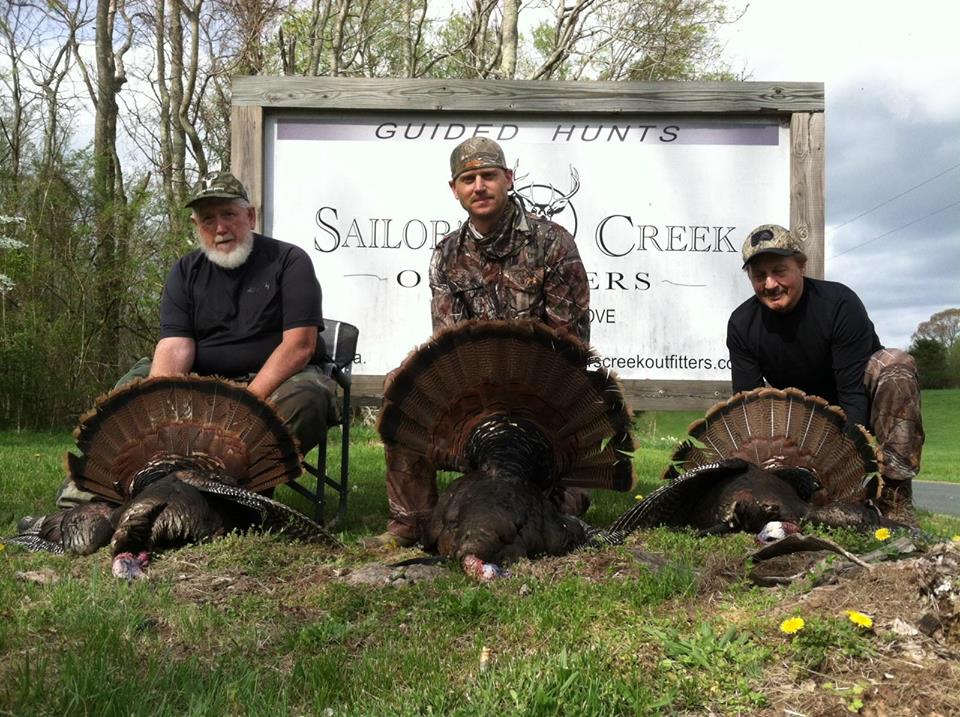 Jack Osewalt (pictured on left) with his long beard harvested on the first morning of his Spring Gobbler Hunt at Sailor's Creek Outfitters in Virginia.
2013 Hunts
Dan Beers did a Spring Turkey Hunt with Sailors Creek Outfitters in Va. Although many birds were seen, and a few opportunities presented themselves, in the end, he didn't get his Sprint Turkey. We have already booked this hunt again for this Spring.

In June, Dan Webb of Warminster, did a Bear hunt with Bryson Lake Lodge in Quebec. The fishing was good, and a great time was had by all, but some foul weather had the bears visiting the stand sites well after dark. Dan and his friends are looking to possibly book this hunt again.
November found Chuck Raabe from Latrobe hunting with Fair Game Outfitters in North Carolina. In a six day hunt, Chuck saw a lot of game, and ended up taking two does and a bobcat!
In mid February, we will be sending Ann Pye on a hog hunt down to Tennessee, to hunt with Bridge Creek Outfitters. Good luck to Ann!
2012 Hunts
Tanner Adams hunted Antelope with Table Mountain Outfitters i Wyoming and was successful. The hunt was filmed by Dave Watson, Mathews TV and is TBD scheduled to appear on TV. We are awaiting a copy of the episode.
Zach Glessner hunted antelope with rifle in Wyoming with Tangle Ridge Outfitters and was successful.
Carl Pierce hunted deer with a crossbow at Sailors Creek Outfitters. He saw game, but was unsuccessful.
Dan Beers hunted deer at Sailors Creek Outfitters with a crossbow. He saw game, but was unsuccessful.
2011 Hunts
Rose Fagan hunted at Sailors Creek. She had oppotunities, a missed shot, and passed on a shot at a buck, not feeling confident she could make a clean harvest. Her mother Robin and her uncle Robert Klopp were able to accompany her on the trip. All expressed much thanks for the experience.
David Calhoun also hunted at Sailors Creek and missed on some opportunities.
2010 Hunts
Zachary Neill hunted deer and turkey at Sailors Creek Outfitters
Joshua Coble shot a doe at Sailors Creek Outfitters
Mike Yost shot a doe at Sailors Creek Outfitters
Johnny Lawrence shot a buck at Misty Mountain Trophy Hunting
2009 Hunts
Johnny Lawrence hunted with Licking River Outfitters
Mike Wicks hunted at Licking River Outfitters
Tyler Hood hunted with Ohio Triangle Outfitters
Jim Hardy is going to North Carolina to hunt with Buffalo Creek Guide Service in late December.
2008 Hunts
Dale J. Cornetti took a big hog in North Carolia at Buffalo Creek Guide Service
Barry T. Plouse took a doe, his first deer with a bow since being disabled 24 years ago. This was also at Buffalo Creek Guide Service.
Bob Shatto had some missed opportunities, but reports having a great time at Buffalo Creek Guide Service.
2007 Hunts
Smokey Ridge Outfitters - Kentucky
2 Hunters
Buffalo Creek Guide Service - North Carolina
3 Hunters
www.buffalocreekguideservice.com

Triangle Outfitters - Ohio
2 Hunters
www.ohiotriangleoutfitters.com




This is what our program is all about. By clicking on the links below you will view the stories and some photos of past hunts provided by the UBP DHP. Some are copied from actual letters written by the hunt recipients themselves.